Mountain Information
Everything you need to know to about Kirkwood and its distinctive features.
With 2,000 feet of vertical drop and over 2,300 acres of terrain ranging from calm, groomed, beginner runs to hair-raising cornices and cliffs, there's something for everyone at "the Wood."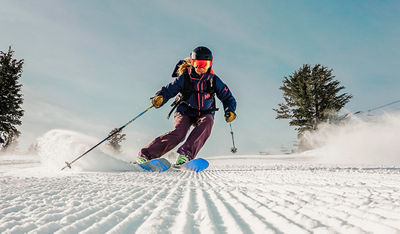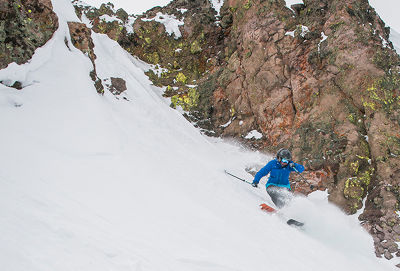 Terrain
Skiable Acres: 2,300
Average Snowfall: 354 inches
Trails: 86
Lifts: 15
Longest Trail: 2.5 miles
Base Elevation: 7,800 feet
Summit Elevation: 9,800 feet
Terrain:
12% beginner
30% intermediate
38% advanced
20% expert

Why Kirkwood?
There's something magical that happens when storms roll into Kirkwood. Some like to say we measure our snow in feet not inches, and others simply sum it up as the "K-Factor."
Storms come from the north and south, pick up precipitation on the west coast, funnel through a tight canyon up the Sierra Foothills and UNLOAD on Kirkwood's perfect position.
The "K-Factor" generates quality skiing and riding conditions throughout the winter season. Whether it's a sunny California day or pure stormy bliss, Kirkwood provides fun skiing and riding in all conditions.
For the latest information on weather and snow conditions, read our daily snow report, backed by N.O.A.A. weather data.
Seeking adventure?
Kirkwood Peaks
We'd like to introduce you to our beloved peaks, all spanning over 9,000 feet and designed for those who seek to push their boundaries. Which adventure speaks to you?
Covered Wagon - 9,565 ft
Accessible from Chair 4 on the backside, Covered Wagon Peak kisses the boundary of Kirkwood and provides access to renowned backcountry terrain through a U.S. Forest Service gate.
Thimble Peak - 9,805 ft
Kirkwood's tallest peak and easily identifiable by the Cirque, Thimble Peak provides steep pitches and expert terrain. East of the Cirque is a short hike to steep pow turns.
The Sisters - 9,400 ft
The Sisters pack a punch, providing a stretch of notorious chutes and cliff drops that makes Kirkwood legendary. Be prepared to go big if you plan to scale this peak.
Glove Rock - 9,360 ft
Perfect for any expert looking for a steep descent or speedy traverse to powder fields. Glove Rock provides lots of varied terrain and hiking options if you are up for the challenge.
Martin Point - 9,249 ft
The farthest peak from the Village but by far the most rewarding. The terrain accessible from Martin Point is pure bliss. Hug the resort boundary line or exit the U.S. Forest Service gate into backcountry, either option will provide unforgettable turns.
Coming this season, EpicMix Time will display forecasts of lift line wait times allowing you to find the lifts with the shortest wait times throughout the day. But that's not all. EpicMix also gives you:
Interactive trail maps, with trail grooming status
Real-time weather, snow totals and mountain cams
Your on-mountain GPS location and stat tracking
Resort updates and safety information
And more!